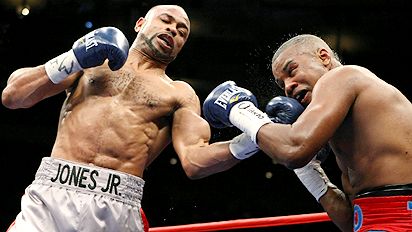 Not necessarily a KO, but definitely dominance. Roy Jones looked like the Roy of old Saturday Night against Tito Trinidad using his speed and ring intelligence to come out with a 12 rd unanimous decision. Tito showed some life early in the fight as he tried closing in on Roy throwing hard left hooks and landing a few here and there.



But Roy proved he was the better fighter and wasn't shy to call out Joe Calzaghe immediately following the victory.


There's a contract literally sitting in front of Calzaghe for him to fight Bernard Hopkins which should be signed as early as Tuesday. Roy will await to see if Calzaghe pulls off the victory. Word is he has no intentions of fighting Bernard Hopkins who he beat over 10 years ago.

As for Tito, I think it's safe to say we've seen his last fight. He has nothing else to prove and still will go down as one of boxing greatest stars.

Clip of the fight:



Oscar to Fight on HBO May 3rd
ESPN is reporting that Oscar De La Hoya will have a tune up fight before his nonsensical rematch with Floyd Mayweather.
"Oscar will fight May 3 to get ready for Floyd, and then if everything goes well, he'll have the rematch with Floyd in September, and then something in December that will be a celebration of Oscar's career."
No opponent has been selected for the May fight, but names under discussion include three junior welterweights, all of whom would give up considerable size to De La Hoya in a bout that would likely take place at about 150 pounds:
Steve Forbes
, reigning titleholder
Paulie Malignaggi
and
Dmitriy Salita
(Why is he fighting Jr Welterweights???)
I'm losing respect for Oscar more everyday...
0 Response to "Roy Prevails / Oscar Fighting on HBO??"