TheShoeGame.com dropped a pic of the Optimus Prime Air Trainers for those who haven't seen the original pictures. But shouldn't these have dropped in...July???




In related Air trainer talk, here are an up close pic of the Dawn of the Dead Air Trainers set to drop in a horror pack with the much anticipated "Freddy dunks" (which from what I seen from the new pics aren't too pretty).




I'm sometimes told I'm crazy with my boxing predictions. But am I really crazy or are people just incredibly blind???

As I predicted, Jermain Taylor felt the power of the underestimated Kelly Pavlik (Who came into the fight 31-0 with 28 KO's under his belt)and got knocked out from a vicious right hand and 2 uppercuts in the 7th round. That along with his decimation of Edison Miranda (who IMO has a harder punch than Taylor)should've been a red flag for the Taylor camp.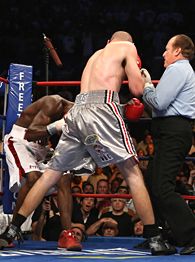 There is a rematch clause that will be moving the fight up to 164lbs (which means it won't be for the Middleweight title). From watching this 1st fight, I can tell you Taylor will feel more of Pavlik's power and the fight will end in quick fashion.
Call it a wrap in 5 rounds with pavlik holdin the belts. You heard it here first!!!!
The on-going debate over "Sampling vs Synth" beats is something that will never end. For people who don't think sampling is it's own art form can eat a dick if you ask me. Now that's not to say that making beats from scratch is a bad thing whatsoever, but people who hate on it forget how Hip Hop even began (do your history youngins...).
As much as I'm a fan of Timbaland & Neptunes who rely on keyboards and sometimes live percussion, I also love the work DJ Premier, Pete Rock, Diamond D, and the late J Dilla put in before the era of overused, repetitive sounds of the Trition or Trinity came into play. Well anyways...here's a video where I speak on the issue a bit.



And here's me playin some wonderful taste bud enticers: