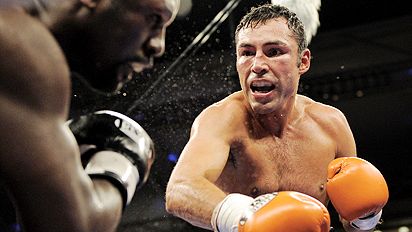 I can't really say Oscar fought a bad fight last night against "Jr Welterweight" Steve Forbes (from The Contender fame), but I can tell you now he will NOT beat Floyd Mayweather his second time around. Forbes did a great job for the little chance he was given. He showed he can definitely fight some of the top JR Welters or even some Welters at that. Oscar to me just didn't look like anything has improved in his game with Mayweather Sr being in the picture now. He went the distance with a much smaller yet quick fighter in Forbes, but could not pull off a KO.

So now we more than likely will see Mayweather vs Oscar 2 along with a rumored fight with Miguel Cotto in December (who has an upcoming fight with rival Welterweight Antonio Margarito). The only way I can see them marketing this fight with a sub par reaction will be the beef between the Mayweather brothers as Mayweather Sr has already gone on record stating he'll train Oscar for the Floyd rematch in September.

The interesting thing though is that this fight regardless of the outcome will set up an interesting December with Cotto looming around for a big fight with either Oscar or Floyd (more likely Oscar). But what if Oscar pulls off the impossible? Does he sign off for a 3rd fight with Mayweather or does he take the biggest challenge then he can take, which will be with Cotto.
0 Response to "De La Hoya Beats Forbes, Floyd Is Next...Again"