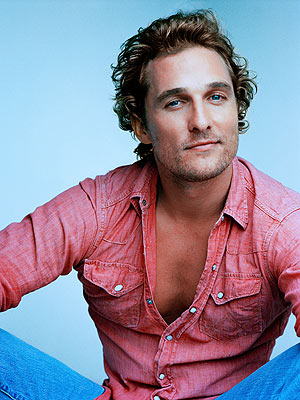 Not necessarily yet. Words is he's reading a script based on the hit 80's TV show that starred Tom Selleck as the OG PI.

From ComingSoon.Net
Entertainment Weekly reports that Matthew McConaughey has been offered the role of Thomas Magnum in Universal Pictures' adaptation of "Magnum P.I.," based on the hit '80s TV series that starred Tom Selleck.

McConaughey is reportedly reading the script from writer/director Rawson Marshall Thurber (Dodgeball: A True Underdog Story) and will decide shortly.
3 Responses to "Magnum P.I. = Matthew McConaughey?"
RAC April 3, 2008 at 4:15 PM

Well, if they want to hire someone with no charisma, and ruin the franchise completely, they'll hire Matthew McConaughey. I can't stand the man. Pure second banana material only.




Anonymous April 4, 2008 at 9:01 AM

The TV show was awesome because of the likability of Tom Selleck...McConaughey can't pull that off & would be awful. I'd never watch it. Honestly, why not pick up from where the series left off & show up was Magnum, T.C. & Rick are doing now? Higgins would more than likjavascript:void(0)
Publish Your Commentely be exposed as Robin Masters & just tell a new story with the original actors & characters? If they insist on someone new taking up Selleck's mantle....I pray it won't be McConaughey.....




Lee Goldberg April 6, 2008 at 3:19 PM

I think he'd be great in the role. I am more worried about the script.