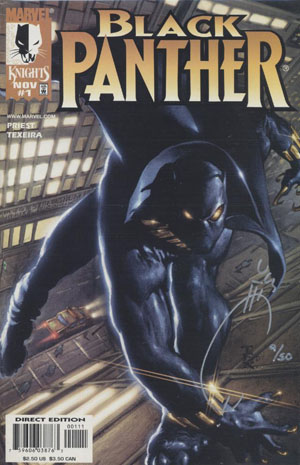 BET & Marvel Comics recently signed a deal to air the animated series of Marvel character Black Panther. It will air sometime later in the year or possibly early '09.

I'm not mad at this. It's about time they started utilizing more of the Marvel characters who aren't as relevant as the Spideys & Wolverines.

Black Panther Bio
The Black Panther (T'Challa) is a character in the Marvel Comics universe who is the first modern Black superhero. Created by writer-editor Stan Lee and penciller-co-plotter Jack Kirby, he first appeared in Fantastic Four vol. 1, #52 (July 1966). Although there have been numerous men who have used the Black Panther identity during the history of the Marvel Universe, this article refers solely to the modern-day Black Panther, also known by his birth name, T'Challa.
2 Responses to "BET Signs Deal with Marvel for Black Panther Series"
mike Belgrove April 18, 2008 at 8:13 AM

I was talking about BET's Black Panther show over on Highbrid Nation. I honestly feel like its one of the best ideas to come out of BET in a long time. Let's face it over the last few years BET has become nothing more than "MTV starring black people". And MTV really isn't the best model for a network to follow. I plan to keep an eye on how this develops. Could it signal a change in the direction of BET?...lol probably not.




RL April 18, 2008 at 8:40 AM

I definitely agree. It's crazy how BET has turned shows like Rap City (which at one point was THE show to watch for videos, interviews, etc) into a filler show.

Hopefully they don't make a mockery of the Black Panther series