LOL, I went down a list of candidates that can possibly take out the enigmatic Cloverfield Monster (or should he just be nicknamed Cloveezy?).



Most of us who have seen the movie know that this monster is fuckin huge. Its arms stretch out to the length of a skyscarper (i.e Empire State Building). It had Stealth Fighters & Tanks dropping bombs on it & Military using Rocket Launchers with little to no effect (so we were made to think). So who can really stop this fucker? here's a list of candidates:

1. Godzilla



This is the obvious for people actually thought Cloverfield was an undercover name for a secret Godzilla project (which is stupid to think). Godzilla is a huge bitch as well and can spit (hot) fire on command. He's faced plenty of foes in his time and always seems to come out on top. He retired from killing people & monsters after a terrible portrayal in the early 90's version of himself. Since then he became embedded in Pop Culture history with his own star on the walk of fame.
Can we see the return of Godzilla in the very near future? Holla @ Paramount.

2. Rock Biter (from The Neverending Story)



This guy, though another huge bitch, seems a little too soft to handle Cloveezy. After both the Neverending Story movies, word got out that he tried inventing the "Pet Rock" until he was informed he was years behind the invention. He's now an actual Mountain Top in the Appalachian Mts during the week from 9 to 5pm. A fight with Cloveezy though could get him back in the public eye and raise his stock up win or lose.

3. Medusa



I mean...the bitch freezes people. How can she not work? Since she was decapitated in Clash of the Titans she hasn't had much work for obvious reasons. But that doesn't necessarily mean her "head" & eyes can't help neutralize Cloveezy (in more ways than one possibly?)

4. Jason Voorhees



This dude has survived an axe to the the dome, electrocution, actually died and was brought back to life from a bolt of lightning, drowned...need I go on?
The Iconic Jason Voorhees can possibly take out anybody if given the opportunity. He defeated long time rival Freddy Krueger (who most thought he would catch an L to) a few years ago and since has been lampin on Crystal Lake which he renovated himself and is planning to turn into a theme park for kids between the age of 16-19 (no surprise there). He's slated to make his on screen return next year in a revival of his Friday the 13th series which has made him a Cazillionaire. he'll be featured in Forbes 100 next month.

5. Victor Crowley (aka Hatchet)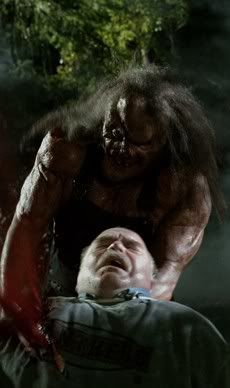 A lot of you probably don't know who this is. He was the star of the soon to be cult classic Hatchet. Let this video bring you up to date as why he'd even be mentioned on this list:

As you can see this guy is fuckin angry about something. Word is he's a hardcore Mets fan. Since their tragic self destruction last year leading the NL East 2 weeks prior to the post season only to lose the majority of their games giving the Phillies the NL East, he's become incredibly violent. He now travels the country dismantling anybody who is a Phillies or Yankees fan with imaginative yet unforgettable tactics.
A date with Cloveezy (especially in NY) can be an incredible showdown for the ages.

6. Floyd "Money" Mayweather



Hey...why not? He's regarded as P4P the #1 fighter in the world. He's beaten everyone he's faced and is about to wrestle 7'4 Big Show at Wrestlemania. This would be another huge payday for Floyd, but could be a costly one. His jab and left hook can possibly be too fast for Cloveezy, but the question is how durable is Clove's chin (his back seems to take a lot of punishment from bombs and rockets)? Floyd has a pending fight with Oscar De La Hoya in September and a possible Mega Fight with Miguel Cotto, but can Cloveezy be his ultimate win? We shall see...
0 Response to "Who Can Beat The Cloverfield Monster?"