Hatton signs with Golden Boy
In what is shocking...yet, not so shocking is the news that England's favorite Son Ricky Hatton, coming off a KO loss to Floyd Mayweather, signed a 3 fight deal with Oscar De La Hoya Golden Boy Promotions. Here's what I say to that...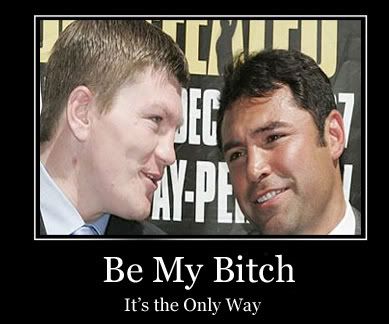 LOL...what big fights are out there for Hatton? We shall see...

Campbell beats Diaz/ Peters KO's Maskaev
In what some called an upset, 36 yr old Nate Campbell beat undefeated Juan Diaz to capture "one of" the Lightweight titles Saturday on the undercard of the Samuel Peter vs Oleg Maskaev fight (which I'll get to in a sec).



Diaz won the 1st 3-4 rounds landing cleaner shots but Campbell was still almost as active as Diaz was at that point. Campbell got busy though throwing lots of body shots and straight combos which eventually cut Diaz's eye nasty!




The fight went the distance having Campbell win on a split decision (which I think was bullshit being Diaz maybe won 2 rounds after the 4th.) This is Diaz's 1st loss and a hefty one at that. But he's only 24 so I'm sure he'll bounce back some how.

In the 2nd fight it was another Heavyweight title up for grabs as Interim Champ Samuel Peter fought Actual champ Oleg Maskaev (WTF?). After the 1st 2 rounds it was without a doubt a much more competitive & entertaining fight than the snooze fest of Klitschko vs Ibragamov most of us witnessed a couple weeks ago. Both guys got hit with some solid shots, but Peter seemed to be the aggressor and began landing harder punches until Maskaev took 3 hard shots that put him in the corner for the ref to stop the fight.



Peter went on to say in the post fight interview that he'll fight either one of the Klitschkos being Vitali (who hasn't fought in nearly 2-3 years)is in line to fight Peter next. The Heavyweight division is still borning, but has a touch of garlic powder now...if you will.
0 Response to "Boxing Update 3/10/08"