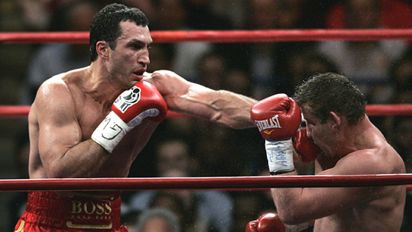 In a pathetic display of Heavyweight boxing, Wladamir Klitschko & Sultan Ibragamov fought Saturday Night to unify the IBF & WBO Heavyweight titles. Both men seemed to not want to hurt each other whatsoever. Klitschko being the obvious favorite threw maybe 10 right hands the whole night subjecting himself to jabbing and throwing down Sultan's jab like a mother smacking her child's hand. Klitschko won on a UD over Ibragamov to a crowd of boos in Madison Square Garden.

What really got me was the Post Fight interview where The Ukrainian giant hinted he has no interest in fighting the winner of the up coming Samuel Peter vs Oleg Maskaev (which is another unifying heavyweight title fight). Instead he said his brother Vitali (who was injured during training for his return to the ring) would most likely face the winner of that fight. So there's the Klitschko brothers can be the 1st to own the Heavyweight titles simultaneously, right?...well what I say to that is:


Heavyweight boxing should be banned from Live TV, period!


Anycase, the under card was a trillion times more exciting but yet mind boggling as Irish Man John Duddy (who is...or was set to face Kelly Pavlik in June) faced Walid Smichet in what some thought was a basic tune up fight for Duddy. Though Duddy came out with a questionable victory, he was being man handled early in the fight with 2-3 hit combos landing flush on Duddy's face. How is this dude expect to fight against Pavlik with no defense??


Duddy did at least admit he doesn't think he's ready for Pavlik after that performance, but lets see if his camp commits career suicide or not and sign the fight for June 7th.
0 Response to "Klitshcko Snorefest / Duddy Unimpressive"