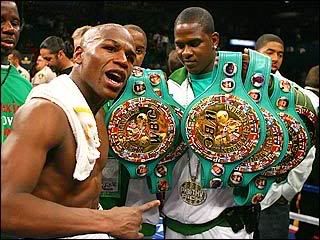 With the much anticipated Hatton vs Mayweather fight behind us now, let the talks begin of what could be the "real" mega fight of the decade.

During the promotions for Hatton vs Mayweather, fans were already mentioning Miguel Cotto as Floyd's next opponent assuming Floyd was going to beat Hatton anyway (which most of us were crowned Nostradamus for the night). With Floyd dodging Cotto questions and hinting retirement, is this fight really going to happen?

If you're not a fan of "Money" May you at least have to give him credit in building up a fight and striking while the iron is hot. Both the Oscar & Hatton fights drew crowds of people who weren't necessarily big boxing fans, but were intrigued by Floyd's flamboyance and how he puts that "bad guy" attitude into the heads of people who want to pay to see Mayweather catch an "L" from the next "promising" opponent. With all the "big" challenges that Floyd has faced since moving to Welterweight, has Floyd really fought the best fighters?



Miguel Cotto is arguably the #2 Welterweight in the world. He's coming off an impressive win over future Hall of Famer Shane Mosley (who also wanted a shot at Mayweather but was turned down). He's another undefeated fighter that is getting more impressive with every fight. Similar to Floyd, the skeptics always try to dissect & pinpoint Cotto's flaws and what the opposing fighter (i.e. Quintana, Corley, Mosley, Judah) can do to better the Puerto Rican star, but with no luck.

Cotto is the fighter most boxing fans gravitate to. He can box with the best of them, and can trade power punches when needed. With Tito Trinidad's shadow being a non issue anymore, it's Cotto's time to step onto the grand stage many boxers never get a chance to make it to.

On paper a Mayweather vs Cotto fight today just makes all the sense in the world.

Example:

Floyd Mayweather
39-0 25 KOs

Notable Wins against:
Zab Judah (12 rd unanimous decision)
Oscar De La Hoya (12 rd split decision)
Ricky Hatton (10th rd TKO)

Miguel Cotto
31-0 25 KOs

Notable Wins Against:
Carlos Quintana (5th rd TKO)
Zab Judah (11th rd TKO)
Shane Mosley (12rd unanimous decision)

You couldn't ask for a better fight, right? Unfortunately, you won't be seeing this just yet. Cotto will have to play the waiting game for at least 9-10 months. Floyd's strategy is always about the dollar and he knows that a fight with him against Cotto would be one of the biggest draws in boxing history. That's something that you can't cook up in a matter of 3 months. So I'm not really mad at that, but who's next if not Mayweather for Cotto?

Here are some proposed opponents you "may" see face Cotto come Spring time if Floyd doesn't have a sudden urge to make the mega fight happen sooner:

Antonio Margarito - 35-5-25 KOs
Kermit Cintron - 28-1 26 KOs (IBF Welterweight Champion)
Paul Williams - 33-0 24 KOs (WBO Welterweight Champion)
Oscar De La Hoya - 38-5 30 KOs
Ricky Hatton - 43-1-32 KOs

Grant it each of those fighters would be a good fight for Cotto. But would a win over 2 guys who already lost to Mayweather, 2 others who are still on the come up, and Margarito who turned down a fight with Cotto to take an L to Williams solidify Cotto that much more?

I await 2008 impatiently...
7 Responses to "Mayweather vs Cotto??? Not Yet..."